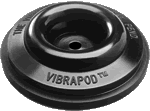 The Vibrapod Company
623 Hanley Industrial Court
St. Louis, MO 63144
Phone (314) 645-2900
Fax (314) 645-6700
Phonogram is a discussion group for those who listen to, collect, or otherwise enjoy music on records. The group is an open, informative, interesting, and just plain fun place for people to share their enthusiasm for, knowledge of, and opinions on music on shiny black discs.The Phonogram List can be joined by sending an E-mail to:
phonogram-request@graphics.cornell.edu
with the command "subscribe" in the message body, without the quotes.
---
[now spinning The Door's Morrison Hotel ... I think it's a later pressing, gold labels, no butterflies]The background: I was over at Richard Foster's place participating in one of the infamous Classic vs. Originals shootouts, and managed to "steal" what seemed like a thousand of these rather indescript, non hi-fi'ish black footers for the price of ... a Phonogram review? For the manufacturing and product spiel, plus other insights, I'd rather point you to the excellent Vibrapod web-site (http://www.vibrapod.com) or to Bruce Kinch's review in Primyl Vinyl V3 #4 ("Revenge of the Pod People", also available on the Vibrapod website). The Vibrapod FAQ on the website is chock full of wholesome goodness, and without a doubt is meant as preventive medicine for you anal-retentive types. Oh ... I guess that includes me. And for you charitable types, 10% of all SALES go to 3 different Outreach Organizations.I'll be honest with you -- this is not *exactly* Phonogram material (I didn't get a chance to try these underneath my TNT Jr. turntable -- for obvious reasons, mostly because I don't have a shelf big enough to hold the turntable, and secondly because I don't sport He-Man muscles like Myles Astor), *but* I am using the Vibrapods in my primarily-vinyl-focused system. Sam has informed me in e-mails that he has produced better-than-Vibraplane (at least the 'planes from Kinetic Systems) results with an assortment of 'pods underneath his VPI Aries table. I hope to try this someday, but until I find a cure for procrastination and win the Mr. Universe contest...[dropping the needle on Dexter Gordon's A Swingin' Affair ... Classic reissue]Pre-Vibrapod invasion, I was using ALOT of Black Diamond products -- Cones, Those Things, Pits, Shelves, yadda yadda yadda -- as well as individual Sound Organization stands for *each* component. We're talking a major cash outlay. While the 'pods don't render those products worthless or inoperable, let's just say that I *preferred* the 'pods.For the price of a mint 1st label mono Blue Note or a white-gold label EMI you could more than likely 'pod your entire system. Of course, this is relative -- I STOLE mine.First of all, the number of 'pods placed underneath a component is based on the component's weight and the model of 'pods that you use (different models have different payload capacities). Placing the 'pods underneath components reduced the shearing (or slippin' & slidin') effect in horizontal plane compared to those "other" cones -- the main non-sonic benefit here is that components connected with stiff cables no longer have the desire to leap off my stand's shelves. This is a good thing.One other thing I noticed: once the 'pods are put in place, it took a little while for the Vibrapod magic to "kick in" -- give 'em a few minutes to settle.[wow, what's this? it's Sloan's Navy Blue ... Murderrecords]So where did I try these suckers? Well for starters, when 8 Model 1s were placed (in a rectangular formation) underneath my SF Phono 1 phono stage (22 lbs, which has special stock "feet" already), I was rewarded with a more laid-back presentation and much better separation of instruments, especially in those recordings where multiple voices were placed hard-left or hard-right. A more refined treble too. Eerily enough, I thought that, musically speaking, everything moved along alot more fluidly as well. Yes, Virginia, the 'pods can boogie.Podding the control and power supply boxes of my SF Line 2, gave pretty much the same results -- there was a gain in the purity of tone department, as well as better detail retrieval -- I could easily hear changes in inflections -- brush work on snares, vibrato on saxophones for example. Now here's the kicker: ambient information on records, like the decay of instruments in a recording environment became readily apparent. Cool.[wallowing in the Cleveland Quartet Complete Brahms String Quartets ...RCA VCS 7102]I guess I could continue with the blow-by-blow details with other components (tube amps, CD players), but I think (like I do right now) that its unnecessary, and that you want me to STOP BLATHERING.Ok, fine. But let me add this *one* last tidbit. The above experimentation lead to building what's called a Vibrapod Sandwich -- yum! -- where you place the 'pods in the middle of two shelves then put the component on the top shelf. From what I understand, this allows for slightly better distribution of weight across the surface of the shelves. But of course, being the evil mad scientist that I am, I just had to try it using some Black Diamond Shelves instead of normal MDF ones, adding some 3-4 more 'pods to compensate for the added weight of those heavy shelves. (Actually I didn't have any normal MDF boards around, so I just had to work with what I had around...) Heh heh heh. An improvement, but not by a whole lot -- the biggest improvement was in the transients. Everything sounded like it could stop on a dime.My conclusion? Well, the Vibrapods worked for me, and they didn't screw up the sound... which is what I should of said in the first place!- John
PS: Can I puuuuuuhhhleeeeeeze keep these things?